Well I admit, I am a little behind! However, I am super excited to share the ornaments I received!
This exchange was hosted and put together by Tutus and Tea Parties, a super cute blog btw! I highly recommend you get to know Robin!
I was SUPER lucky and got to double dip my ornaments... meaning I got to have 2 partners! My first, was Colletta from Colletta's Kitchen sink. She does a great job reviewing books and recipes! PLUS she has a super cute shop attached to it!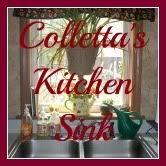 In fact! I had a great surprise when I opened my package, she had enclosed a newborn hat from her shop, to add to my prop box for babies! SUPER awesome!!!! I LOVE IT!
For my Ornament she made me this sweetie.... which is now prominently displayed with all my other treasures on our family tree! Yes... I included the hat in this image so you could see how adorably small it is!
My other swap partner is from Eugene, Or. Where I spent a wonderful Christmas with family YEARS ago... I have really warm memories, even though it was bitterly cold when I visited. Chrissy from
Muse in the Mornings
describes herself as ". I'm a mama, an artist and a kisser of owies, giver of snuggles and nurturer of art. I live in the heart of Oregon hippie country with The Hubs and my 2 adorable children" She has a great sense of humor and I have really enjoyed reading up on her life, craft projects and ooing and ahhing over her sewing patterns.
While I feel she got the short end of the stick on this exchange... I LOVED what she sent me - It is vibrant and colorful just like her!
I am super excited that I was connected with these ladies! Both offer such great shops and blogs I am certain that I will continue to follow them and I really hope you take some time to visit as well!
On a personal note... Yes.. the background is new, it's a background mini - small and made just for these little objects! These are the first test shots with this color combo, let me know your thoughts!
You will see more of the mini's for sale in my shop come January, but if your looking to add to your photos, picking up a pre-made mini, or custom ordering one to match your shop colors is a great option!