Good Morning! Did you miss me?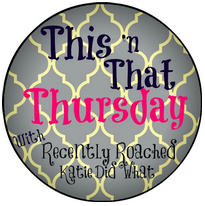 This morning is the Easter Party and egg hunt at the lil' ones school - She is SO excited. Mostly because she gets to show off her new super cute "pop star" outfit. That, was how this post should have started... last week.
Sorry about that! I had it all ready to go, and was waiting for images to upload when I got super busy... and bam... before you knew it... here we are, a week later! I even had to push some DIY studio posts back because I am missing images for them... =( hopefully we will get caught up next week for you!
This week I tried out a new recipe for the crock-pot... do you use yours? I LOVE mine! I read a post last week about doing Easter Ham in it... why have I never thought of that! So I did ours... it was GREAT... mostly because we were not cooking for a crowd.
This year, again we are away from friends and family and that makes our holiday's "small-a-days" so I picked up ham for the crockpot and made a nice honey pomegranate glaze for it. We also enjoyed balsamic carrots, and smashed potatoes... I also made deviled egg salad... rather then taking the time to make individual eggs. Again.. BRILLIANT!
This week I wish I could say I spent a ton of time catching up on posts, and working on adding more images... did you know I average 5 images per post... but I am simply not finding the extra time. I am trying to go back and do 2 posts a day. That is my goal! So if your reading something and it makes no sense because there are not images... please let me know! I will do it the next chance I get!
This is an image of my FAB new bag from Zeeuh that I have been DYING to share with you all... she made it custom for me... it was a great experience working with Alicia.. she provided me with some great fabric options and even met me for some CRAZY good ice cream and coffee to hand deliver it! Talk about good service! Along with my new bag came a matching mug hug! EEK! Wont I look stylish going to appointments and networking meetings now! Oh, and that cute wallet (the back side is shown) that is a little goodie I picked up for myself around the holidays!
That is the mug-hug that started it all... I LOVE this color combo!
And this is an image of the cute gift card holder ... that I use for my cards - its super cute! Just look! (ok those are her cards shown... but really that's the right thing to do!)
I am telling you THAT is a woman YOU want to do business with! Great products, sweet person and really... you make a difference in her families lives directly when you make a purchase from her... so HOW can you say no to that!
This week I also had the EXTREME pleasure of
guest posting on the A-list site
... I LOVE the A-list, which is really a collection of fantastic shops and people to do business with! I worked very hard on this guest post! It was a true labor of love for me. (ok... this again was last week... but I am SO happy about it I still had to share!)
That was really the highlight of my work week!
This week I have also been thinking alot about a new service I want to offer... I am having a hard time with a name - but its basically going to be my version of a product review (with a photo twist, of course!) That means if you make / sell your own products... you can contact me to be first in line! While I am still working out some details... I know it will be FREE and SIMPLE!