I was recently introduced to This and That Thursday its a fun link-up party that you will find on my list of hops now..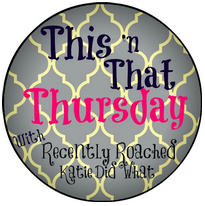 Now, on to "This and That"
©Verte Photography / Custom backdrop made by Verte Photography
This
is my coffee mug today, I love it! Go Green!
That:
is how I get to enjoy my coffee this morning... I swear it was the best $5 I have ever spent (thanks to a $5 off discount at Walgreen's) It allows my child no matter how cranky to get her own milk... and by default cereal in the mornings so I don't have to get up every 5 mins.
This:
I found in the store canned Barbeque Boiled Peanuts. I love Boiled Peanuts.
That:
Are you kidding... BARBEQUE... CANNED.... I'm just going to say ewwwww!!!!