Thanks for joining me for another week of This and That! I have had a lot of fun with this link-up and met some great ladies! Please remember to check them out!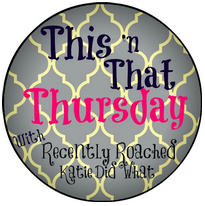 This week is Spring Break for my house.
That did mean we were planning on some awesome day trips
Instead.
This week my kiddo was sick. Which meant no fun. In fact, we haven't been outside at all this week.
That means we are all feeling a little grumpy and I can't wait for this round of sickness to be done!
This also means that a lot of posts I was working on got put on hold... but that doesn't mean they will be gone forever... just delayed.
This also means I get to share with you the only good tip I got from watching Kate Gosslin... ever.
Puke Bowl, get one.
I am not sure how or why with a kid that gets car sick I didn't do this earlier... silly me! Seriously, it has made life here bearable this week, and saved my clothes, her clothes, my couch, floors and yes sadly even walls from projectile and other fantastic vomit stories.
That is my life this week! Aren't you glad you asked!
This past week I did reward myself for making a business goal, not only by purchasing a new goodie for the business.. but personally with a custom made bag from
Zeeuh.
I can't WAIT to show you what I got!
The owner of Zeeuh, is local to Houston. However, I didn't meet her locally to start with. I was introduced to her shop from
The A-List
Don't forget to join up and link in for the Small Business Saturday link party as well, with Kristina at her
blog here
!